Reading Time:
3
minutes
Best Director's SME Company Car: Jaguar XF 2.0d R-Sport 180PS Auto
 AFTER two-years at the top, the seemingly unstoppable BMW 5-Series has been knocked off of its spot in the Business Car Manager Best Director's SME Company Car Award, by the second-generation Jaguar XF in 2.0d R-Sport trim.
Jaguar XF Saloon 2.0d R-Sport 180PS
CO2:114g/km
Fuel consumption: 65.7mpg
Acceleration: 7.7 seconds
Maximum speed: 136mph
Insurance group: 27
P11D value: £36,795
Company car tax band: 20%
BIK: £7,359
Tax at 20%: £1472
Tax at 40%: £2943
Jaguar has always been good at producing cars that look great, but the last XF was let down by its old underpinnings. The new Jaguar XF has no such problem, as it's based on the same new aluminium intensive chassis as the smaller XE (that's also a winner in these awards!).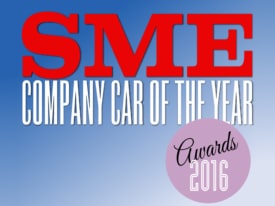 On top of the more capable under-pinnings, the XF is now available with different versions of Jaguar Land Rover's excellent 'Ingenium' low emission high power diesel engines.
In the winning 2.0-litre R-Sport 180PS Auto version, this XF has impressive fuel efficiency (65.7mpg) with 114g/km CO2 emissions. That means company car tax can cost as little as £1,472 per year.
SME directors won't want for anything kit-wise either as the generous level of standard equipment on the Jaguar XF 2.0d R-Sport includes a styling kit, front parking sensors, sports seats and interior R-Sport trim features.
Four key reasons why the Jaguar XF won
Impressive CO2 and fuel figures
Looks great and is well-equipped
Has all the performance you'd expect of a Jaguar
Still great fun to drive, get out of town and the XF is an exciting drive
Despite the improvements to the CO2 and fuel consumption figures, our award winner, the XF 2.0d R-Sport auto, has all the performance you'd expect of a Jaguar. Acceleration from 0-62mph takes just 7.7 seconds and the top speed is 136mph.
It's not just the efficient engine and high levels of standard kit that impresses. The new XF is a match for the BMW 5-Series with its keen drive, communicative steering and sharp handling, which all adds up to explaining why the new XF is our top Director's SME Company Car choice.
See the Business Car Manager review: New Jaguar XF turns up business car heat.
"The XF wins:  great price, good design and desirable," said Paul Hollick Chairman of the Judges, Chairman of the Institute of Car Fleet Management (ICFM) and Commercial Director of The Miles Consultancy.
The SME Company Car of the Year Awards 2016 is sponsored by Fleet Alliance.
Best director's company car. What were the judges looking for?
What sort of company car would a director of an SME want to run? It would need to be something prestigious, well specified but also not too heavy on benefit in kind company car tax or running costs – especially if it's for the finance director!
Qualifying cars will cost more than £30,000 and are open to all body configurations – SUV, crossover, estate as well as more traditional saloon.