Reading Time:
3
minutes
Best Green SME Company Car: Audi A3 Sportback e-tron
AUDI'S assault on the plug-in market has come good, with the A3 Sportback e-tron winning the Best Green SME Company Car award.
 Despite keen opposition from last year's winner, the BMW i3 and the all-electric Renault Zoe, the A3 Sportback e-tron came top.
Audi A3 Sportback e-tron
CO2:37g/km
Fuel consumption: 59.9mpg
Acceleration: 7.6 seconds
Maximum speed: 138mph
Insurance group: 29
P11D value: £22,100
Company car tax band: 5%
BIK: £1,782
Tax at 20%: £356
Tax at 40%: £713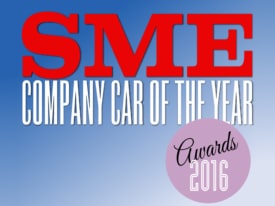 So why has the A3 come top then? Well, what Audi has done is to basically add plug-in electric hybrid power to the already classy A3 package. And the result still offers punchy performance, now combined with penny-pinching running costs including 5% BIK liability.
With full electric cars there's always that worry in the back of your mind about running out of power and being stranded without anywhere to charge. Well, this isn't a problem for this hybrid Audi, as on a full charge, the e-tron's electric motor means it can travel up to 30 miles on electric power at speeds up to 81mph. Yet, when that runs out, there's always the A3's 1.4-litre petrol turbo motor to fall back on, meaning 176.6mpg is possible.
Once the lithium-ion cells from the battery are drained, a charge mode can be used to top them up again, with the default setting being Hybrid which goes between the petrol and electric motors to make the best use of the energy available.
Four key reasons why the A3 e-tron won
Audi's assault on the plug-in hybrid market works well. The A3's classy package is actually enhanced by the addition of the hybrid drivetrain, as on top being high quality and well-equipped it now costs pennies to run.
The addition of the 1.4-litre turbo petrol engine means no range anxiety and that a range of over 176 miles is possible.
Despite 37g/km emissions, the Audi A3 e-tron is still capable of accelerating to 62mph in just 7.6 and the top speed is 137mph
The Audi A3 e-tron is available from just £480 per month.
Despite the electric hybrid drivetrain, it feels like any other A3 inside.
This means clean design, high quality finishes and in the e tron's case, plenty of standard kit, with dual-zone climate control, sports seats, the S tronic gearbox, Audi's MMI Navigation system and a seven-inch display, which are all fitted as standard.
The only giveaway about the electric drivetrain is that the rev counter is replaced by a smart power meter. Click here to read our review of the Audi A3 e-tron.
The Audi A3 e tron might cost pennies to run, but acceleration to 62mpg takes just 7.6 seconds and the top speed is 137mph.
In addition, the Audi A3 e tron is available from just £380.50 per month.
SME business car leasing authority Martin Brown, managing director of Fleet Alliance and one of the judges, said: "With its 37g/km CO2 output corresponding to a 5% BIK liability, exceptionally low running costs and typically strong residuals the A3 Sportback e-tron combines premium class quality and desirability with outstanding cost effectiveness."
The SME Company Car of the Year Awards 2016 is sponsored by Fleet Alliance.
Best green car. What were the judges looking for?
Green cars are increasingly gaining credence with SME small fleets thanks to low running costs, low benefit in kind taxation and the relaxed nature of the driving experience. And with the changing of the 100% write down allowance at the beginning of this tax year, those ultra low emission vehicles are really making their case for inclusion in any SME small fleet.
But which is best – electric car, range extender, plug-in hybrid, or maybe hydrogen?
To qualify for this award, cars must have CO2 emissions that do not exceed 75g/km.