Reading Time:
2
minutes
Best Large SME Company Car: Jaguar XE 2.0d R-Sport 163PS
THE fact that Jaguar's new Audi A4 and BMW 3-Series rival, the XE, is 2016's Best Large SME Company Car in the SME Company Car of the Year Awards 2016, shows what a year of change it has been for the iconic classic British sports saloon manufacturer.
Jaguar XE 2.0d R-Sport 163PS Saloon
CO2: 99g/km
Fuel consumption: 72.4mpg
Acceleration: 7.9 seconds
Maximum speed: 132mph
Insurance group: 32
P11D value: £22,100
Company car tax band: 17%
BIK: £4,214
Tax at 20%: £1097
Tax at 40%: £2194
No Jaguar has ever been able to crack the sub 100g/km emissions barrier before, yet the XE does and still delivers driver appeal by the bucket load.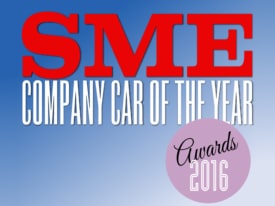 In the end, the Jaguar XE in 163PS 2.0d R-Sport trim, won out because of its 75mpg combined fuel economy and CO2 emissions of just 99 g/km.
So, on top of the handsome styling, if you go for the R-Sport trim there are more dynamic details, such as the curvier bodykit and 17-inch alloys.
However, despite the sporty looks, with this version of the Jaguar XE, you can have your cake and eat it, as it still combines low running costs and low tax bills, with an equally high level of driver satisfaction and real company car appeal.
Judge Jonathan Burn, Auto Express deputy news editor, said: "At launch the XE redefined the compact sports saloon market with class leading fuel economy and CO2 levels coupled with Jaguar design."
Four key reasons why the Jaguar XE won
Impressive CO2 and fuel figures
Handsome, sporty looks
Despite the economy, the Jaguar still has all the performance you'd expect
The XE is still great fun to drive
Best large company car. What were the judges looking for?
When small businesses and SME firms look for staff company cars, they keep it simple. It's either a compact car or a large car.
So this is the larger car category to suit technical or sales staff on the road or more senior personnel in the organisation.
That means a car that is longer than 4.5m and conveys a level of seniority and aspiration. Must satisfy all the key attributes of being practical, desirable, good on company car tax and low on running costs.
The SME Company Car of the Year Awards 2016 is sponsored by Fleet Alliance.