Reading Time:
4
minutes
THE SME Company Car of the Year is the Jaguar XE. The new British-built saloon also won the Large Company Car category while the larger XF also took the Director's category.
Clearly, Jaguar is back in business for UK SMEs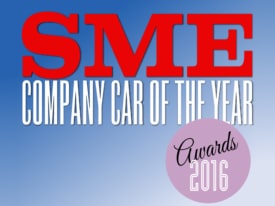 "How welcome is this? A Jaguar to really compete with the German premium opposition. And how!" commented Ralph Morton, editor of Business Car Manager, after the independent panel of judges reached their decision.
"No Jaguar has ever been able to crack the sub 100g/km emissions barrier before, yet the XE does this and still delivers driver appeal by the bucket load. And then some.
SME Company Car of the Year Awards – category winners
Best Value SME Company Car: Mercedes-Benz C350e PHEV
Best Compact SME Company Car: MINI Cooper D 5-door hatch
Best Large SME Company Car: Jaguar XE
Best Director's SME Company Car: Jaguar XF
Best Green SME Company Car: Audi A3 Sportback e-tron
Best SME Company Car Programme: BMW
Best SME After Sales Programme: Hyundai
Editor's Special Recognition Award: Volvo Co-Pilot duty of care assistance scheme
"As well as the appealing sporty looks, the Jaguar XE in 163PS 2.0d R-Sport trim, won out because of its 75mpg combined fuel economy and CO2 emissions of just 99 g/km thanks to its British built Ingenium engine.
"It really is a case of having your cake and eating it with this version of the Jaguar XE: it combines low running costs and low tax bills with an equally high level of driver satisfaction and real company car appeal. No wonder our panel of independent judges also gave this Jaguar the top accolade – the SME Company Car of the Year.
"Congratulations to Jaguar. A car to really make a difference to the SME business sector. "
The SME Company Car of the Year 2016 Awards – the judges
The awards were judged by a panel external of experts who are specialists in the SME company car sector.
Paul Hollick, chairman of the Institute of Car Fleet Management (ICFM) and commercial director of the Miles Consultancy, led the panel.
Steve Cocks, director of Lex Autolease Broker Division.
Colin Tourick, Grant Thornton Professor of Automotive Management, University of Buckingham and management consultant.
Martin Brown,

managing director of fleet management specialist Fleet Alliance.

Andy Brown, managing director of CD Auction Group.
Jonathan Burn, deputy news editor of Auto Express who provides  company car reviews for Business Car Manager when away from Auto Express duties.
Jim McNally, head of Asset Risk at Alphabet and also the BVRLA RVR committee chairman.
Robert Wastell, divisional managing director at Hitachi Capital Car Solutions.
On its way to the overall crown the Jaguar XE won the category for the Best Large SME Company Car while its sibling the Jaguar XF won Best Director's SME Company Car.
Our independent panel of expert judges – chaired by Paul Hollick, chairman of the Institute of Car Fleet Management and Commercial Director of The Miles Consultancy – were impressed by the new XE's focus on low CO2 and fuel consumption figures, combined with sporty looks. On top of this, the Jaguar is a match for the best driving compact executive rivals, such as the recently face-lifted BMW 3-Series.
So, on top of the handsome styling, if you go for our favourite R-Sport trim there are more dynamic details such as the curvier bodykit and 17-inch alloys. Click here to see our review Keen driving baby Jag is a 99g business star.
Another British-built winner was the MINI Cooper D five-door hatch that won the 'Best Compact' category while parent company BMW collected the award for the Best Company Car Programme for its small business and small fleet focused Business Partnership programme.
Hyundai made it a hat trick of wins by taking the Best After Sales title for the third year running, Audi won the Green car title with its Audi A3 Sportback e-tron plug-in hybrid (PHEV)  and Mercedes-Benz took the Best Value award with its C 350e saloon PHEV.
And this year there was a new  Special Recognition award going to Volvo for its Co-Pilot duty of care assistance scheme for SMEs, helping drivers to avoid accidents and helping them deal with the consequences if the worst happens.
As editor Ralph Morton explained: "Volvo's offer to small businesses is practical, innovative and mould-breaking in the SME sector. Co-Pilot provides real expertise in an area where SMEs have little knowledge or expertise and provides a professional framework for running company cars. And that's why it gets my special recognition award.
"Volvo has done something different that will make a real difference to all small businesses and small fleets taking up the Co-Pilot offer. And is part of Volvo's ambitious mission to ensure that by 2020 nobody will be injured or killed in a new Volvo."
The SME Company Car of the Year Awards 2016 is sponsored by Fleet Alliance.
There was another British accolade in the Van Awards too – with the Luton-built Vauxhall Vivaro crowned champion.